A few days ago, Singapore had its 2nd AMIMOTO: WordPress + AWS Meetup.
AMIMOTO gave away some freebies like t-shirts, stickers and flyers with a quick overview of AMIMOTO WordPress Stack and the technology behind it.
The two organizers of the event were DigitalCube's (writer / evangelist) Kel and (code wrangler) Shuhei, who flew from Japan to host the event that was attended by a total of 10 participants living in Singapore.
The attendees are engaged in tech-related jobs like web developer, programmer, architect, engineer and tech business owner.
Kel introduced the team of DigitalCube, our main activities, what we do for fun and our WordPress community contributions. 
The highlights of the presentation were WordPress, AWS, its tools, Marketplace and WordPress powered by AMIMOTO (HHVM).
Included in the topic were a series of HHVM performance tests and various types of sites, common issues and solutions by WordPress and AWS.
Some AWS tools discussed were:
Prior to the hands-on workshop, we gave away $50 worth of AWS credits to each participant.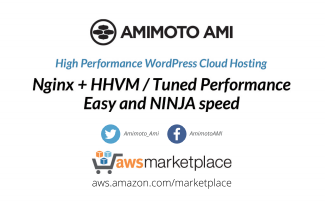 Tips, Tricks & Facts:
When choosing a region, select the nearest location where the site will be mostly accessed from.
WordPress Powered by AMIMOTO HHVM free trial is only for one t2.micro instance per AWS account.
Tagging your instance makes it easier to see especially if you have more than 1 instance in that region.
Elastic IP is a static IP address that you can allocate to your account. With EIP, you can mask the failure of an instance or software by quickly remapping the address to another instance in your account.
When you successfully install WordPress Powered by AMIMOTO (HHVM), you will notice that there are already pre-installed plugins. All these plugins are not yet activated except for NGINX Cache Controller.
You may activate, deactivate and install your preferred WordPress plugins.
Scale up your instance for higher performance, memory and higher traffic management.
If you want to scale up before the free trial expires, your usage will be converted to regular per hour subscription.
If you terminate your instance before the free trial expiration, the free trial will no longer be valid. If you launch another instance after that, it will be a regular subscription.
For multiple Database units, please see CloudFormation Pack "Kawanakajima" ELB + Single EC2 instance web server + Multi-AZ Amazon RDS instance.
FAQ:
1. What will happen to my instance when I terminate it?
Free Trial: when you terminate your instance, you stop using the free trial version. If you launch another instance, it will be a regular subscription.
Paid User: you stop getting billed.
2. Why do I have to release my Elastic IP address?
An Elastic IP address that is not associated to an instance will be charged per hour.
3. What happens after the 14-day free trial period?
When you subscribe to WordPress Powered by AMIMOTO (HHVM) free trial, you will receive a mail from AWS notifying you of your free trial subscription.
Days before the expiration, you will then receive another mail from AWS notifying you that in a few days your trial will expire.
After it expires and you are still subscribed, it will convert automatically into a paid per hour version.
4. How much is a regular t2.micro subscription per hour?
The cost varies on your selected region. For Singapore, t2.micro costs USD 0.15/hour.
If your t2.micro is running 24 hours a day for 30 days, that will be USD 18/month.
5. SFTP
How to connect an instance by ec2-user to (S)FTP client software
6. Is it possible to switch from Self-hosting to Managed Hosting? 
Yes. Please contact us if you wish to change hosting plans.
To know more on the difference between self-hosting and managed hosting, please see: What's the difference between AMIMOTO hosting plans?
7. Can I activate/deactivate or install other WordPress plugins? 
Yes.
Although there are already pre-installed plugins in WordPress Powered by AMIMOTO HHVM for top performance, speed and security, you may install other plugins you prefer.
---
After the hands-on workshop, the organizers and some participants headed to a nearby pub for socialization and a few drinks.
Thanks everyone for joining the 2nd AMIMOTO: WordPress + AWS Singapore meetup. See you all again next time!